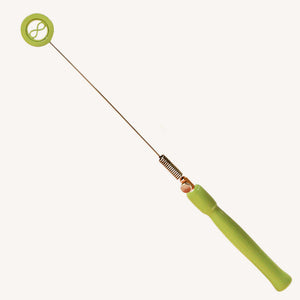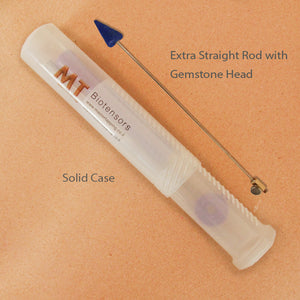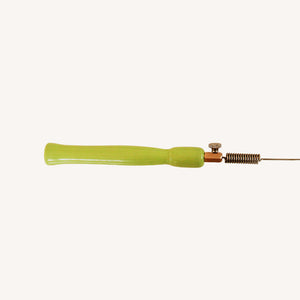 Purchase includes:

A solid case for storing

An extra Straight rod with gemstone head

One month guarantee
Extras
This Biotensor includes a storage case and extra exchange part
The device is dismantled, assembled, and stored in a designated case that comes with the MT Bio-Tensor.
Description
This Green custom-designed Infinity model is based on a wooden grip handle and an Aluminum alloy and Kirsitering in Red color. The wooden handle is easy to hold and is designed for a long hour's use. It prevents slipping of the hand and is known for its balance with the body posture. This MT Bio-Tensor device was designed by Iris Bat - Shlomo, an expert therapist on the Master Tapping technique.
The significant improvement in this Bio-Tensor is in the stainless steel spring at the edge of the rod that allows better control of the device movement and prevents muscular fatigue in maintaining the stabilization of the device.

The 32mm ring, designed with the Infinity symbol that represents the mysticism of our past and the possibility for eternal emotional liberty. This designed device helps the patient to become emotionally open to treatment by energy test.
Explore: Wave Symbol Spring Rod  MT Bio-Tensor
Explore: Star of David Symbol Spring Rod  MT Bio-Tensor
Ring - Aluminum, alloy Kirstie, Rod - Stainless Steel, Handle - Oakwood
The actual color of this Biotensor may be slightly different from the picture shown due to the different screen of display or reflecting light when shooting.