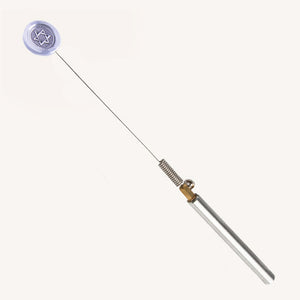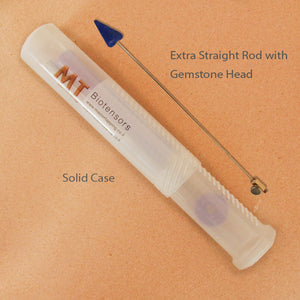 Purchase includes:

A solid case for storing

An extra Straight rod with gemstone head

One month guarantee
Extras
This Biotensor includes a storage case and extra exchange part
The device is dismantled, assembled, and stored in a designated case that comes with the MT Bio-Tensor.
Description
This custom-designed "Star of David" model is based on a Metal Handle and an Aluminum alloy and Kirsitering. The Metal Handle is easy to hold and is designed for a long hour use. 
This MT Bio-Tensor device designed by Iris Bat - Shlomo, an expert therapist on the Master Tapping technique.

The significant improvement in this Bio-Tensor is in the stainless steel
spring at the edge of the rod that allowing better control of the device movement and prevent muscular fatigue in maintaining the stabilization of the device.

The 29mm ring, designed with the"Star of David" symbol originated in ancient Jewish tradition that represents a deeper mystical meaning. The six points of the star represent God's rule over the universe in all directions: north, south, east, west, up, and down. Others believe that the two triangles, which point in opposite directions, are symbols of the duality of human nature or the relationship between God and man. This designed device helps the patient to become emotionally open to treatment by energy test.
Explore: Wave Symbol Spring Rod  MT Bio-Tensor
Explore: Infinity Symbol Spring Rod  MT Bio-Tensor
Technicals
 Diameters & Weight:
 Ring dia. - 28.8mm, Ring Weight - 12.53g, Total Length - 37cm, Total Weight - 45g

Materials:
 Ring - Aluminum alloy, Kirstie, Rod - Stainless Steel, Handle- Aluminum & Brass
Suitable spare parts
Undeciding which design to choose?

We invite you to check out our exchange parts that can be replaced for purposes of diversity and even maintain product life over time.
Adding exchange part to your order will grant you with 10% Off: Exchange Parts