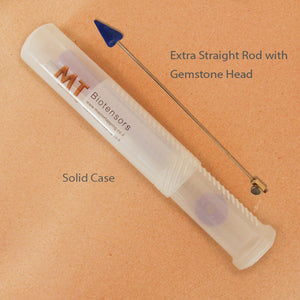 Purchase includes:

A solid case for storing

An extra Straight rod with gemstone head

One month guarantee
Extras 
This Biotensor includes a storage case and extra exchange part.
The device is dismantled, assembled, and stored in a designated case that comes with the MT Bio-Tensor.
Description
This model is based on a wooden grip handle and a brass ring. The wooden handle is easy to hold and is designed for a long hour use. It prevents slipping of the hand and is known for its balance with the body posture. His ring is 21 mm wide and is located at the end of the wire. The movement of the device is gentle and is influenced by the vibration that comes from the muscles that respond to the treatment.
 Explore: Custom-design Biotensor with spring Rod and Infinity Symbol Ring
 Explore: Custom-design Biotensor with spring Rod and Star of David Symbol Ring
 Explore: Custom-design Biotensor with spring Rod and Wave Symbol Ring
Technicals
Diameters & Weight: 
Ring dia. - 21mm, Ring Weight - 6.5g, Total Length - 41cm, Total Weight- 45.05g
Materials: 
Ring - Brass, Rod - Spring Steel, Handle - Oakwood
Suitable spare parts

Undeciding which design to choose?
We invite you to check out our exchange parts that can be replaced for purposes of diversity and even maintain product life over time.
Adding exchange part to your order will grant you with 10% Off: Exchange Parts